Window To Spain: 'Bon Appétit'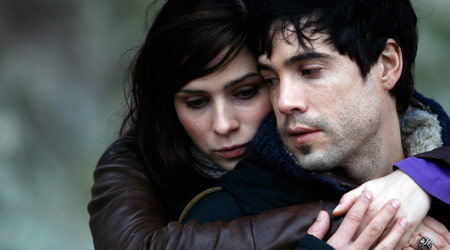 Window to Spain is a free 6-month 'summer cinema' experience at the forthcoming Big Screen Plaza in Chelsea, New York.
Bringing a diverse selection of the best in Spanish contemporary art and film, Window to Spain turns this 30 ft by 16 ft HD LED screen into a direct flight to Spain. It started with a 2-day kick off on Friday, June 24th, with live Flamenco music and dancing in the public plaza followed by the screening of Flamenco Flamenco by Carlos Saura. Monthly screening events will continue through December 2011 and include award-winning films and documentaries.
Bon Appétit

On Saturday, November 19th at 4:00 pm. Free admission
Directed by , by David Pinillos. Spain / Germany / Switzerland / Italy, 91 min., 2010. With Unax Ugalde and Nora Tschirner. Ambitious and talented, Spanish Chef Daniel arrives at world famous Zurich restaurant W intent on becoming restauranteur Thomas Wackerle's protégé. Despite Wackerle's perfectionism and the kitchen's frenzied competitive atmosphere, Daniel manages to forge friendships with Hugo, Wackerle's Italian sous-chef, and Hanna, the restaurant's sommelier. The trio soon becomes inseparable, sharing after-hours drinks together. Then, one night to prove a point, Hanna kisses Daniel, and his carefully constructed life begins to unravel. First, his long-distance relationship with his girlfriend grows ever more strained, then his burgeoning feelings for Hanna are upended when he discovers she is not only Wackerle's mistress, but also carrying his child. Like other kitchen confidentials such as Big Night, Mostly Martha, and last year's Mediterranean Food, Bon Appétit charts the complicated camaraderie and zealous rivalries at play among the culinary elite, while also managing to provide a delectable feast of romantic frisson. Director David Pinillos received theGoya Award for Best New Director.
Window to Spain is co-produced by Pragda and Telegraph21. It is being shown in partnership with Big Screen Project and with the support of Consulate of Spain in New York. Special thanks to Bar Basque, Region 0, King Juan Carlos I Center, Freak Agency, Imagina, Eddie Saeta, ARTransforma, and Aquipo.
Film
New York
Nov 19, 2011
04:00 pm
Venue
Phone
212-533-4100
More information