'Seeking Spain in the Cinema'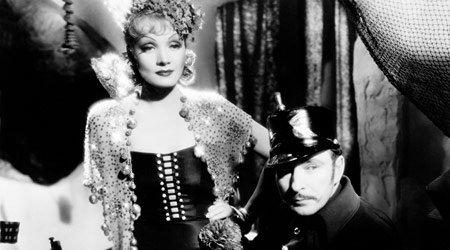 Portrayal of Spanish identity in three classic Hollywood narrative films is contrasted with El Amor Brujo, by Carlos Saura.
Throughout its history, Hollywood has reduced race and ethnicity to conventions and stereotypes that serve to pique viewer interest. In this program, the portrayal of Spanish identity (including the Civil War era and modern flamenco culture) in three classic Hollywood narrative films is contrasted with El Amor Brujo, the final film in Carlos Saura's flamenco cycle.
Along with commentary by Spanish novelist Antonio Muñoz Molina and Josep Colomer, Prince of Asturias Chair in Spanish Studies, Georgetown University, legendary Spanish cantaora Esperanza Fernandez provides a musical introduction.
Presented in association with Post-Classical Ensemble's production of Manuel de Falla's flamenco-inspired masterpiece El Amor Brujo at Georgetown University, and with support from Spain's Ministry of Culture.
The Barefoot Contessa

On November 26 at 2:00. Followed by Behold a Pale Horse.
Introduction by Josep Colomer. Related in flashback as a rags-to-riches saga, The Barefoot Contessa features Ava Gardner as the ultimate tragic and untamed Spanish-born gypsy dancer Maria Vargas, transformed by American movie moguls via the Hollywood system into a glamorous star. Down-on-his-luck director Humphrey Bogart narrates her life story. (Joseph L. Mankiewicz, 1954, 35 mm, 128 minutes). Print from UCLA Film and Television Archive. Preservation funded by The Film Foundation.
In Behold a Pale Horse, ex–Catalan anarchist Artiguez (Gregory Peck), living in France, continues organizing guerrilla raids on Spain years after the Civil War has ended. His bête noire, the Guardia Civil's Captain Viñolas (Anthony Quinn), sees Artiguez only as an outlaw. The complicated contest between the two men hinges on the fact that Artiguez's mother is now dying at home in Spain. (Fred Zinnemann, 1964, 35 mm, 118 minutes).
The Devil Is a Woman

On November 27 at 2:00
Introduction by Josep Colomer. Josef von Sternberg's adaptation —set during Spanish Carnaval— of Pierre Louÿs's 1898 French novel La Femme et le Pantin, gave Marlene Dietrich an opportunity to embody the Spanish temptress Concha, a woman whose manipulative and remorseless ways are nearly the downfall of the film's narrator, Don Pasqual. "Everything —lighting, camera, editing, acting— is aligned in the desperate expression of the erotic power of the woman." —Ado Kyrou. (Josef von Sternberg, 1935, 35 mm, 80 minutes). Print from UCLA Film and Television Archive.
El Amor Brujo

On November 27 at 4:00
Esperanza Fernandez, Antonio Muñoz-Molina, Angel Gil-Ordoñez, Joseph Horowitz, and Igal Perry in person. The final film in Carlos Saura's flamenco cycle, produced in collaboration with choreographer Antonio Gades and dramatically using Manuel de Falla's El Amor Brujo, is a tale of tragic gypsy love between Carmelo (Gades), José (Juan Antonio Jimenez), and Candela (Christina Hoyos), a woman who as a young girl loves Carmelo, but is promised to José. In later life, after his death, Candela continues to be obsessed by the figure of her late husband José. "The flamenco choreography is so intrinsically dramatic that the acting passages often seem superfluous." —Janet Maslin. (Carlos Saura, 1986, 35 mm, 100 minutes) A flamenco set precedes the screening.
Don't miss the related event on December 3rd and 4th: Falla/Stravinsky: 'El Amor Brujo' / 'The Soldier's Tale'
Film
Washington, D.C.
Nov 26, 2011 – Nov 27, 2011
Venue
National Gallery of Art, 4th Constitution Avenue Northwest, Washington D.C., DC 20565
View on Google Maps
Phone
202-737-4215
More information