Eurochannel Shortfilms Screening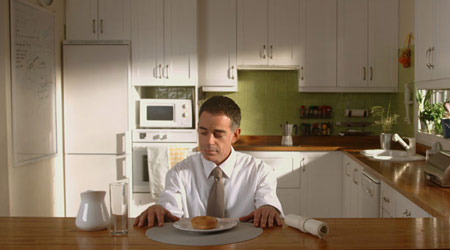 Enjoy the best of European short films gathered in one screening of transatlantic creative short stories.
Within the framework of their Fall 2011 program, the EUNIC Cluster Washington together with Eurochannel present a selection of European short film at the West End Cinema:
The Afternoon Snack (Le Goûter)

France, 15 minutes, 2008, Director: Bruno Vaussenat. A 9 year-old boy is sent home after a fight with a classmate. His grandfather is left to look after him. However, the afternoon is going to take an unexpected turn.
Gone Fishing

United Kingdom, 13 minutes, 2008, Director: Chris Jones Runtime. Gone Fishing is the touching story of a boy and an old man coming to terms with bereavement through their shared love of fishing, and the legend of Goliath, the biggest pike ever caught!
Pilala

Greece, 15 minutes, 2004, Director: Theo Papadoulakis. A big day is ahead for twelve-year old Adipas. He is preparing to watch his idol on TV, but an electricity failure in his village ruins his plans. His grandfather's café is the only place with electricity and in a rush to get there he causes pandemonium in the village.
Dentissimo

Germany, 10 minutes, 2008, Director: Maurice Huesni. Have you ever had toothache? Ever felt that pulsating pain close to your ears? If so, this film is for you.
Caviar

Romania, 20 minutes, 2009, Director: Razvan Savescu. Robert, 35 years-old and his 7 year-old daughter, Loana, leave on the morning of Christmas Eve from Tulcea train station, heading to Bucharest. Robert has to take a jar of black caviar to Mrs. Zina, a rich lady, who owns a modeling agency, and lives in a luxury neighborhood in the capital. Robert lives off his caviar trade. This time, he takes Loana with him too, as it is the girl's first time in Bucharest and she really wants a puppy, a Maltese.
The Substitute

Italy, 16 minutes, 2007. Director: Andrea Jublin. Why does the supply teacher, rather than teaching, behave as he does? A comedy about the teen world and the existential confusion of grown-up people. A film about nostalgia for youth and the virtues of courage. It's never too late to take charge of your life.
George

Sweden, 26 minutes, 2008, Director: Alain Darborg. Ulf and Eva are so happy! They are finally becoming adoptive parents. But when they are picking up their little son from the airport, it turns out that the orphanage has sent them the wrong George.
Señor X

Spain, 13 minutes, 2009, Director: Julio Soto. He has the perfect woman and the perfect life. He has everything except what he desires the most. She hasn't cared for a while but he, on the other hand, cannot stop insisting. She promises the following night will be very special. She won't be wrong, it will be very special indeed.
Little World

Austria, 19 minutes, 2009, Director: Marco F. Zimprich. Sebastian's world revolves around old vinyl, his home, and a pretty check out girl working in a vintage record store. As time goes by, their worlds will never be the same again.
Hop, Skip, Jump

Slovenia, 15 minutes, 1999. Director: Srdjan Vuletic. A couple breaks up during the Sarajevo 1984 Olympic Games. Nine years later, their paths cross again but this time they are on two opposite and enemy sides. She is a sniper in the Serbian army, he hunts pigeons to survive.
General admission $11, cultural centers' members and students $9.
EUNIC is a partnership of national institutions for culture from EU member states. It works across a global network of 70 cities, from Brussels to New Delhi and from Moscow to New York. Founded in March 2011, the EUNIC Cluster Washington aims to present edgy, creative, diverse and thought-provoking cultural and educational programs to showcase Europe in Washington, DC. Full members include the Alliance Française, Austrian Cultural Forum Washington, British Council, Goethe Institut, Hellenic Foundation for Culture, Romanian Cultural Institute, and the Italian Cultural Institute. The Embassies of Finland, Romania, Slovenia, Spain, and Sweden are all associate members. The European Delegation in Washington DC is an observer. Eurochannel is a one-of-a-kind network. Its vast selection of modern entertainment from the every corner of Europe takes viewers on a whirlwind tour of European culture.
Film
Washington, D.C.
Nov 15, 2011
06:30 pm
Venue
Phone
202-419-3456
More information