'The Solemnity of Shadows: Juan Laurent's Vision of Spain'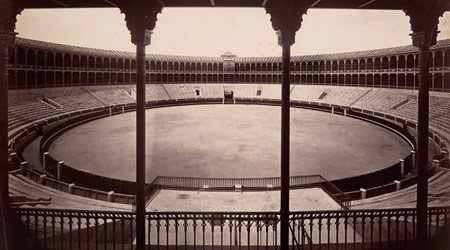 Travel back in time to mid-19th century Spain through the lens and visually stunning photographs of Juan Laurent.
Juan Laurent (1816–1886) is a preeminent figure in the history of Spanish photography. The Gallery's department of image collections presents a selection of 23 rare albumen photographs and two albums by Laurent and his company, with particular focus on his photographs of Spanish art and architecture.
Through the successful commercialization of Laurent's excellent archive of photographs of historic monuments and city views, as well as through his reproductions of works of art from the Museo del Prado and the Royal Palace in Madrid, Laurent became the most important and recognizable trade photographer in 19th-century Spain. His city views include Toledo, Segovia, Salamanca, Valladolid, Sevilla, Madrid, El Escorial, Barcelona, Elche, Granada, Burgos, and Valencia.
Organized by the National Gallery of Art, Washington. The exhibition will be on view in the East Building, Ground Floor, Study Center, open Monday through Friday from 10:00 a.m. to 5:00 p.m. Passes are not required for this exhibition. As a part of FotoWeekDC 2011.
Visual arts
Washington, D.C.
Nov 7, 2011 – Dec 30, 2011
Venue
National Gallery of Art, 4th Constitution Avenue Northwest, Washington D.C., DC 20565
View on Google Maps
Phone
202-737-4215
More information