4th Annual Festival of New Spanish Cinema in Washington, D.C.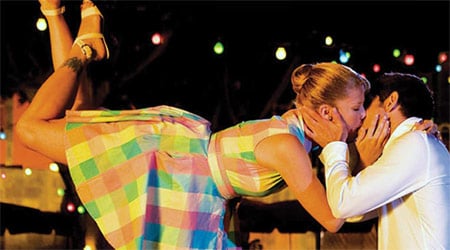 The energy of Almodóvar. The risk-taking of Amenábar. The unadulterated exhilaration of Buñuel. The fourth annual 2011 Festival of New Spanish Cinema unveils the next generation of Spanish film legends.
Featuring first-time filmmakers and established masters alike, the very best in contemporary Spanish cinema comes to San Juan. Join us for award-winning comedies, romances and dramatic masterpieces, and the special unveiling of a horror classic.
'Every song is about me' (Todas las canciones hablan de mí)

Opening night on November 4th at 7pm with filmmaker Jonás Trueba in person! Also showing on November 7th at 5:00pm
Directed by Jonás Trueba, Spain, 104 min., 2010. Cast: Oriol Vila, Bárbara Lennie, Miriam Giovanelli, Ramón Fontseré. This woody-allenesque romantic comedy inspired by the French New Wave, follows the story of Ramiro, an immature thirty-something wannabe poet who one day is dumped by his fiancée, Andrea. Up and coming Jonás Trueba captures the confusion of a generation haunted by music and books, by the need to find a path amidst the certainty of uncertainty and by the compulsion to find love when love has become but the topic of yet another indie-pop song.
'The Great Vazquez' (El gran Vázquez)

On November 19th at 12:45pm and November 20th at 7:10pm
Directed by Oscar Aibar, Spain, 106 min., 2010. This madcap and amorally funny biopic dramatizes the life of the influential Spanish cartoonist Manuel Vazquez Gallego. In 1960s Barcelona, Vázquez' characters were a huge success in the comics published by Bruguera. Meanwhile, Spain's top cartoonist gets what he wants when he wants, artfully dodging anyone he owes money to, and marrying gaily, collecting one family after another. With a cigarette permanently dangling from his lip, Santiago Segura —better known for being the director and star of the successful Torrente saga—plays the artist with rascally energy.
'80 Days' (80 egunean)

On November 26th at 6:30pm and November 28th at 9:30pm
Directed by José Mari Goenaga and Jon Garaño, Spain, 105 min., 2010. A delightful story of illicit desire handled with warmth, delicacy and humor. Forbidden by society to develop their budding passion, childhood girlfriends Axun and Maite were forced to embark on very different paths in life. When Axun returns to their hometown of San Sebastian 50 years later, the women are reunited and given anotherchance to explore this unrequited love.
'Half of Oscar' (La mitad de Óscar)

On November 27th at 9:40pm and November 29th at 9:20pm
Directed by Manuel Martín Cuenca, Spain and Cuba, 89 min., 2010. Cast: Verónica Echegui, Rodrigo Sáenz de Heredia. An exploration of family taboos, this quiet and austere third feature from Martín Cuenca (The Weakness of the Bolshevik) delves into the deepest regions of the human soul. Oscar's routine is interrupted when his aging grandfather is moved to the hospital and his sister, Maria, whom he hasn't heard from in two years, will be coming home. Silence and subtext speak volumes in this poignant film about impossible loves.
'Lope'

On November 29th at 7:10pm and December 1st at 4:45pm
Directed by Andrucha Waddington, Spain and Brazil, 106 min., 2010. Cast: Alberto Ammann, Pilar López de Ayala, Luis Tosar, Leonor Watling, Sonia Braga. Almodóvar's pet, Leonor Watling (Talk to Her), Golden Globe nominee Sonia Braga and an all-star cast of Spanish actors participate in this spectacular romantic epic with echoes of Oscar-winner Shakespeare in Love. Acclaimed director Andrucha Waddington depicts Lope de Vega, a bright star in Spanish Baroque literature, as a man ruled by his passions, and more condemned than commended for his eviscerating wit.
'Kidnapped' (Secuestrados)

On November 26th at 8:45pm
Directed by Miguel Angel Vivas, Spain, 85 min., 2010. Best Horror Feature winner at Austin's Fantastic Fest 2010, Vivas' film about a family's first night in their new home gone terribly wrong just may leave audiences in a total state of shock. This taut, high-octane, grittily realistic thriller is shot in fewer than a dozen intricately choreographed sequence shots that create an accurate, hyper-real rendering of the home invasion experience. Though the storyline has been done several times, Vivas' directing style, the rich characters and the unrelenting gruesome detail make Kidnapped a superb horror movie.
'Who can kill a child?' (¿Quién puede matar a un niño?)

On November 26th at 10:45pm
Directed by Narciso Ibañez Serrador, Spain, 107 min., 1976. Once available only on poor VHS copies circulated among aficionados, this legendary, taboo-breaking horror classic's disturbing imagery helped keep it out of easy public viewing. A Hitchcockian thriller with salutes to Night of the Living Dead and Lord of the Flies, it tells the tale of a British couple who take a holiday to a small Spanish island—an island apparently devoid of adults but inhabited by some very unnerving children, who have long stopped being fans of adults.
'Lovestorming' (No controles)

On November 25th at 9pm and November 30th at 9:10pm
Directed by Borja Cobeaga, Spain, 96 min., 2010. Oscar-nominated Borja Cobeaga (One Too Many, The Friend Zone) directs this Spanish box-office hit, a fast-paced, side-splitting comedy starring sexy star Unax Ugalde in the Spanish take on The Hangover. With all flights cancelled after a snowfall, Sergio is stranded in a road-side hotel on New Year's Eve with his ex-girlfriend and an annoying old classmate. Propelled by his friend's persistence and assisted by an eccentric team of strangers, Sergio attempts to win back his ex-girlfriend in the countdown to dawn, when flights will resume.
'With or without love' ( Una hora más en Canarias)

On November 25th at 7pm and November 27th at 7:40pm
Directed by David Serrano, Spain, 97 min., 2010. This technically polished, fast-moving, screwball musical comedy is the third feature by successful director (Soccer Days) and screenwriter (The Other Side of the Bed) David Serrano. Beautiful married superbitch Claudia (Colombian star Angie Cepeda, Captain Pantoja and the Special Services) has been dumped by her lover, Pablo (Quim Gutierrez, Dark Blue Almost Black, Cousinhood). He takes off with his new girfriend to the Canary Islands to escape Claudia's relentless attempts to win him back, but she soon follows, aided (for a time) by her loyal (for a time) sister Monica (Juana Acosta from the 2011 Golden Globe-winning television mini-series Carlos). Pablo soon finds himself torn between three strong and manipulative women who will do whatever it takes to get what they want. Set against the gorgeous backdrop of Tenerife and scored with catchy pop songs and colorfully choreographed musical numbers, The quirky, stellar cast has great fun inhabiting a breezy tropical fantasy about people who dream, sing, dance and fall in love.
'Bicycle, Spoon, Apple' (Bicicleta, cullera, poma)

On November 28th at 7pm. Co-presented with Alzheimer's Association
Directed by Carles Bosch, Spain, 105 min., 2010. As both the former mayor of Barcelona and former president of Catalonia, Pasqual Maragall has been a popular leader for the people of Spain. In 2007, this charismatic public figure was diagnosed with Alzheimer's. Following Maragall for two years, director Carles Bosch (who helmed the Oscar-nominated documentary film Balseros) creates an intimate portrait of the man and his family. By bringing us so deep into the life of an Alzheimer's sufferer, Bosch demystifies the disease—resulting in a documentary that's sure to leave viewers forever changed. Sponsored by the Alzheimer's Association of Oregon
Organized by Pragda and the AFI Silver Theatre and Cultural Center. Supported by the Embassy of Spain in Washington DC, Ministry of Culture of Spain-ICAA. Additional support comes from Iberia Airlines, American Airlines, Martín Códax Albariño and Las Rocas Garnacha, our exclusive wine sponsor, and Eurochannel. Special thanks to all the venues and universities for hosting our screenings, master classes and live events.
Film
Washington, D.C.
Nov 4, 2011 – Dec 1, 2011
Venue
AFI Silver Theatre and Cultural Center, 8633 Colesville Road, Silver Spring, MD 20910-3916
View on Google Maps
Phone
301-495-6700 ‎
More information