'Window To Spain' presents 'Finisterrae'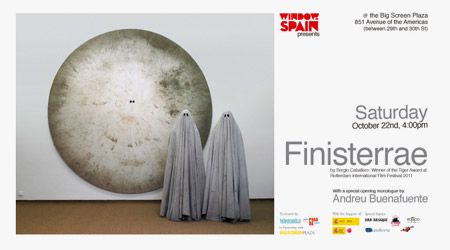 Window to Spain is a free 6-month "summer cinema" experience at the forthcoming Big Screen Plaza in Chelsea, New York.
Bringing a diverse selection of the best in Spanish contemporary art and film, Window to Spain turns this 30 ft by 16 ft HD LED screen into a direct flight to Spain. It started with a 2-day kick off on Friday, June 24th with live Flamenco music and dancing in the public plaza followed by the screening of Flamenco Flamenco by Carlos Saura. Monthly screening events will continue through December 2011 and include award-winning films and documentaries.
Finisterrae, by Sergio Caballero, on Saturday, October 22nd at 4:00 pm. With: Pau Nubiola, Pavel Lukiyanov, Santí Serra, Yuri Mykhaylychenko. A film with a logic, beauty and humour all of its own. Two ghosts —recognisable by their white robes with holes for the eyes— leave the Sonar Music Festival and set off for Finisterre, at the end of Jacob's Way.
Sergio Caballero is co-director of the famous SONAR Festival in Barcelona for Advanced Music and Multimedia Art, where he is responsible for the visual side. His first full-length film also emerged from that side. Only later was the scenario created. A major source of inspiration for Finisterrae is Philippe Garrel's classic The Inner Scar (1972). The fact that this road movie with its haughty tones and subject is so amusing is partly thanks to the maker's captivating, unique sense of humour.
Winner of the Tiger Award at Rotterdam International Film Festival 2011. Admission is free.
Window to Spain is co-produced by Pragda and Telegraph21. It is being shown in partnership with Big Screen Project and with the support of Consulate of Spain New York. A special thanks to Bar Basque, Region 0, King Juan Carlos I Center, Freak Agency, Imagina, Eddie Saeta, ARTransforma, and Aquipo.
Film
New York
Oct 22, 2011
04:00 pm
Venue
Phone
212-533-4100
More information