Centelles in_edit_oh!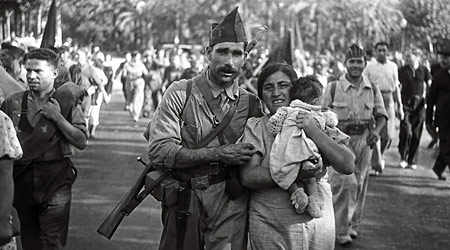 The Spanish Civil War Photographs of Agustí Centelles ("The French Suitcase").
This exhibit features 40 photographs taken during the Second Spanish Republic (1931-1936) and Spanish Civil War (1936-1939), and subsequently at the French concentration camp in Bram, by the celebrated Catalan photo journalist Agustí Centelles. All of the photographs are being exhibited for the first time, in conjunction with the parallel exhibit at the Centro Documental de la Memoria Histórica in Salamanca, which recently purchased Centelles' archive.
When Centelles returned to Spain during World War II to escape persecution by the Gestapo on account of his work for the French Resistance, he left his photographic archive in a suitcase in the attic of a friend's house in Carcassonne. During the Franco Dictatorship he was not allowed to practice photojournalism and devoted himself to advertising. In 1976, after Franco's death, Centelles went to Carcassonne to retrieve the suitcase, where his negatives had remained intact-a story reminiscent of the recently-discovered "Mexican Suitcase" of negatives by Robert Capa, Gerda Taro, and Chim exhibited at ICP in 2010-2011.
The exhibit includes the dramatic photographs Centelles took in Barcelona shortly after the military uprising of 18 July 1936, his photo-reportage during the war, and his extraordinary photographs taken in Bram concentration camp where he was interned on crossing into France.
The opening with curators and organizers will take place on Wednesday October 5 at 6:15 p.m.
A parallel exhibit of original copies of international magazines that featured Centelles' war photos will be on show in NYU's Tamiment Library, 10th floor, Bobst Library, 70 Washington Square South. A symposium celebrating Centelles' work will be held later in the semester; date and speakers to be announced.
Co-sponsored by the Centro Documental de la Memoria Histórica (Ministerio de Cultura-Gobierno de España) and NYU's Tamiment Library.
Visual arts
New York
Oct 5, 2011 – Dec 17, 2011
Venue
Auditorium of NYU's King Juan Carlos I of Spain Center, 53 Washington Square S #201, New York, NY 10012
View on Google Maps
More information