Conference: 'Gonzalo Torrente Ballester in Albany, NY'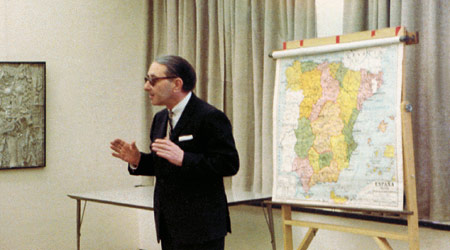 How one of Spain's greatest authors lived, taught, and wrote some of his finest works in Albany, New York.
This public conference reviews Gonzalo Torrente Ballester's life, novels, diaries and films. From 1966 to 1972, he was a Distinguished Professor at the University at Albany, SUNY, where he began to write his "fantastic trilogy", three novels that are widely viewed as his greatest works: La saga/fuga de J.B. (1972), a sensation in the Spanish literary world; Fragmentos de Apocalipsis (1977); and La isla de los jacintos cortados (1980). The story of La Isla begins on the Albany campus.
The conference will feature public lectures on GTB by Professors Stephen Miller and Joana Sabadell-Nieto, reminiscences of his former colleagues and students, readings from his novels, and showings of his films.
Conference from 1:30 pm–5:00 pm in the Standish Room, Science Library, Uptown Campus
Movie showings from 7:30-9:00 pm in Page Hall, Downtown Campus
Literature
Albany
Oct 14, 2011
01:30 pm – 09:00 pm
Venue
Phone
518-591-8183
More information