Recent Spanish Cinema in Los Angeles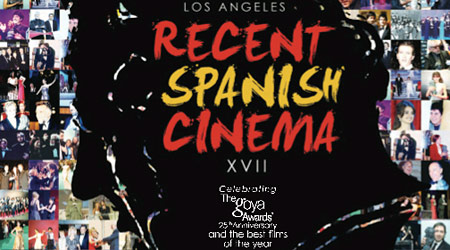 Showcasing since 1994 the most current Spanish films and top personalities who have contributed to putting "Made in Spain" productions in the vanguard of international filmmaking.
The Spanish Institute for Film and Audiovisual Arts (ICAA) a part of the Ministry of Culture, together with the American Cinematheque and EGEDA announce the 17th edition of Recent Spanish Cinema series that will showcase the most outstanding recent Spanish films at the Egyptian Theatre in Los Angeles, October, 13–16, 2011.
This 2011 series will be kicked off with the special opening premiere of the official Spanish Entry for Best Foreign Language Film for the Academy Awards 2012 (TBA on October 1st, 2011).
This year's selection of recent Spanish cinema highlights everything from the most exuberantly hard-to-miss genre pieces to dramas notable for their restrained subtlety. Selections include Agustí Villaronga's Black Bread, a bleak, breathlessly dark fantasy tale about Spanish life during World War II (and winner of 9 Goya Awards!); Daniel Sánchez Arévalo's comedy Cousinhood, about a trio of cousins on a pilgrimage back to the pueblo; Paco Cabezas' Neon Flesh, a sweaty, brash and flashy crime comedy about a Barcelona street kid starring Mario Casas; Montxo Armendáriz's Don't be afraid starring Belen Rueda, which looks with intense yet wrenching care at the long-term effects of child abuse through the lense of one young girl's upbringing; and the nuanced and subversive Anything you want from director Achero Mañas and starring Juan Diego Botto, a gender-questioning family drama about a man raising a baby.
Also, join the 17th Annual Recent Spanish Cinema series in celebrating the 25th anniversary of the Goya Awards, the Academy of Arts and Cinematographic Sciences of Spain's annual award acknowledgement and ceremony for the best professionals in the film industry.
Film
Los Angeles
Oct 13, 2011 – Oct 16, 2011
Venue
Phone
323-461-2020
More information