Recent Spanish Cinema in Miami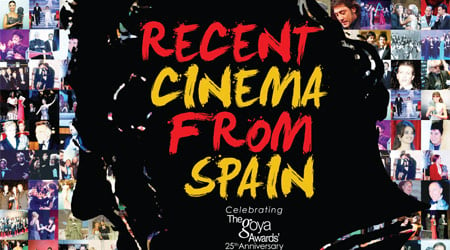 A four-day Spanish film extravaganza celebrating the diversity of contemporary Spanish Cinema that will premiere six of Spain's most important films of the year.
A series pass for all six films is now available for purchase for $65 (plus processing fees). Information regarding the announcement of the film titles and guests will be released in the coming weeks.
Recent Cinema from Spain is the result of an initiative by EGEDA, with the purpose of promoting Spanish films in the United States and encouraging their circulation to the public at-large and the audiovisual industry.
Produced and presented by EGEDA, Miami International Film Festival of Miami Dade College, and the Gusman Center. With the support of La Academia de la Artes y de las Ciencias Cinematográficas de España, ICAA (the Spanish Institute of Cinematography and Audiovisual Arts), Filmotech, Spain arts & culture, Embassy of Spain in Washington, Consulate General of Spain in Miami, the City of Miami, Lizarran, Viña Zaco, Anna de Codorniu, Raimat, Bacardi, Valor chocolates, Castillo de Tabernas, Noticias España-Miami, CCE Miami (Centro Cultural Español), SPAIN-US Chamber of Commerce and Embassy of Spain Trade Commission Miami.
Film
Miami
Oct 20, 2011 – Oct 23, 2011
Venue
Olympia Theatre at the Gusman Center for the Performing Arts, 174 East Flagler Street, Miami, FL 33131-1130
View on Google Maps
Phone
305-374-2444 ‎
More information