4th Annual Festival of New Spanish Cinema in Miami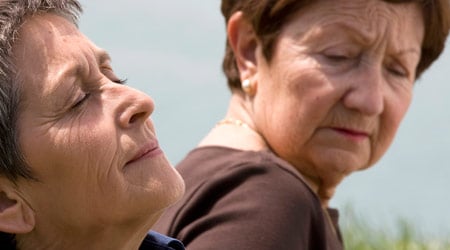 The energy of Almodóvar. The risk-taking of Amenábar. The unadulterated exhilaration of Buñuel. The fourth annual 2011 Festival of New Spanish Cinema —our biggest and riskiest yet— unveils the next generation of Spanish film legends.
Featuring first-time filmmakers and established masters alike, the very best in contemporary Spanish cinema comes to Miami for fourth year in a row. Join us for award-winning comedies, romances and dramatic masterpieces, and the special unveiling of a horror classic.
Opening Night: '80 Days'

On Friday September 30th at 8:45pm.
Directed by José Mari Goenaga and Jon Garaño, Spain, 105 min., 2010. Cast: Itziar Aizpuru, Mariasun Pagoaga, José Ramón Argoitia, Ane Gabarain. A delightful story of illicit desire handled with warmth, delicacy and humor. Forbidden by society to develop their budding passion, childhood girlfriends Axun and Maite were forced to embark on very different paths in life. When Axun returns to their hometown of San Sebastian 50 years later, the women are reunited and given anotherchance to explore this unrequited love.
Filmmaker Jose Mari Goenaga will present 80 Days and participate in a post-screening Q&A. Before the screening, beginning at 7pm, the audience is invited to an opening night reception at Catch 10 Seafood Bistro featuring Martín Códax Albariño and Las Rocas Garnacha wine and complementary appetizers! Co-presented by Miami and Fort Lauderdale Gay & Lesbian Film Festivals. An exclusive presentation by vino Martín Códax Albariño and Las Rocas Garnacha.
'Bicycle, Spoon, Apple' (Bicicleta, cullera, poma)

On Saturday, October 1st at 8:45 pm.
Directed by Carles Bosch, Spain, 105 min., 2010. As both the former mayor of Barcelona and former president of Catalonia, Pasqual Maragall has been a popular leader for the people of Spain. In 2007, this charismatic public figure was diagnosed with Alzheimer's. Following Maragall for two years, director Carles Bosch (who helmed the Oscar-nominated documentary film Balseros) creates an intimate portrait of the man and his family. By bringing us so deep into the life of an Alzheimer's sufferer, Bosch demystifies the disease—resulting in a documentary that's sure to leave viewers forever changed.
'Every song is about me' (Todas las canciones hablan de mí)

On Sunday, October 2nd at 9:00 pm.
Directed by Jonás Trueba, Spain, 104 min., 2010. Cast: Oriol Vila, Bárbara Lennie, Miriam Giovanelli, Ramón Fontseré. This woody-allenesque romantic comedy inspired by the French New Wave, follows the story of Ramiro, an immature thirty-something wannabe poet who one day is dumped by his fiancée, Andrea. Up and coming Jonás Trueba captures the confusion of a generation haunted by music and books, by the need to find a path amidst the certainty of uncertainty and by the compulsion to find love when love has become but the topic of yet another indie-pop song.
'Half of Oscar' (La mitad de Óscar)

On Monday, October 3rd at 9:00 pm.
Directed by Manuel Martín Cuenca, Spain and Cuba, 89 min., 2010. Cast: Verónica Echegui, Rodrigo Sáenz de Heredia. An exploration of family taboos, this quiet and austere third feature from Martín Cuenca (The Weakness of the Bolshevik) delves into the deepest regions of the human soul. Oscar's routine is interrupted when his aging grandfather is moved to the hospital and his sister, Maria, whom he hasn't heard from in two years, will be coming home. Silence and subtext speak volumes in this poignant film about impossible loves.
'Lope'

On Tuesday, October 4th at 9:00 pm.
Directed by Andrucha Waddington, Spain and Brazil, 106 min., 2010. Cast: Alberto Ammann, Pilar López de Ayala, Luis Tosar, Leonor Watling, Sonia Braga. Almodóvar's pet, Leonor Watling (Talk to Her), Golden Globe nominee Sonia Braga and an all-star cast of Spanish actors participate in this spectacular romantic epic with echoes of Oscar-winner Shakespeare in Love. Acclaimed director Andrucha Waddington depicts Lope de Vega, a bright star in Spanish Baroque literature, as a man ruled by his passions, and more condemned than commended for his eviscerating wit.
Film
Miami
Sep 30, 2011 – Oct 4, 2011
Venue
Phone
305-673-4567
More information