Euronight 2011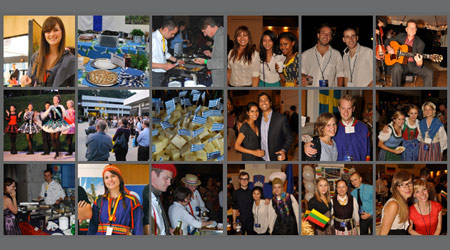 A captivating cultural journey of European traditions.
For the fourth year in a row, the European embassies in Washington, D.C. are proud to present Euro Night! on Friday, September 23rd, from 6:30 p.m. until 11:30 p.m.
La Maison Française at the Embassy of France will host the 2011 edition, featuring more than 20 European Union embassies, each showcasing its respective culture, traditions and culinary specialties. Throughout the evening, enjoy live music while taking a tour around Europe, feasting on national dishes and drinks from the open bars —a great way to discover European traditions!
The Embassy of Spain will offer a taste of Spanish food and wine, as well as a live DJ session by renowned musician and visual designer DIGITAL 21. His live session will be a real storm of electric shock.
Buy tickets now as this event sells out every year! Proceeds from this event will help support the numerous and varied cultural activities at the participating European embassies. General admission tickets:$35 (limited availability). Benefactor Tickets: $50.
Music
Washington, D.C.
Sep 23, 2011
06:30 pm – 11:30 pm
Venue
La Maison Française at the Embassy of France, 4101 Reservoir Rd NW, Washington, District of Columbia 20007
View on Google Maps
More information