'Absurdities.' The legacy of Buñuel's surrealism.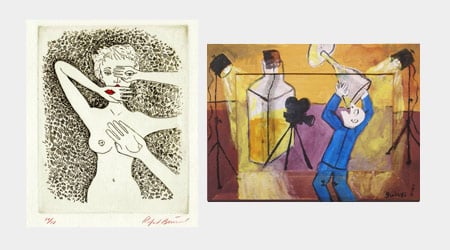 The exhibition Absurdities features the work of Rafael Buñuel and Juan Luis Buñuel, the two sons of the legendary filmmaker Luis Buñuel.
The legacy of Surrealism emerges in an extensive suite of etchings and paintings created by the two brothers. They were born into realm of Spanish Surrealism and have followed the tradition of visionary dream images that endlessly inspire their creativity.
Presented by the General Consulate of Spain in Los Angeles, Jordan Garcia from Jordan & Rosendal and Emil Nelson Gallery.
Artist Reception: Saturday September 10, 2011, 5-9 pm.
Visual arts
Los Angeles
Sep 10, 2011 – Oct 8, 2011
Venue
Phone
310-266-9904
More information