'Good Morning Freedom!' Spanish Cinema After Franco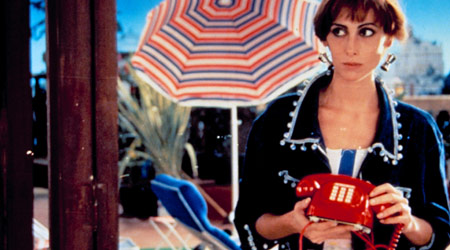 A film series about the cinema produced in Spain from the arrival of democracy (1976) to the end of the 80s.
This selection of key films from Spain's newly unrestricted era, following 40 years of dictatorship under General Francisco Franco, was programmed by Joana Granero for the BFI, who also curated the excellent Cinema and the Spanish Civil War series screened at AFI Silver in 2009.
With the death of Franco, whose dictatorship lasted nearly 40 years, Spain entered into a newly democratized socio-political atmosphere which allowed a burst of cultural liberation and experimentation for the first time in over a generation.
The cinema saw many films that consciously broke with the previous climate of repression and aspired to a new national identity characterized by social liberation. It gave a green light to an alternative, adventurous and eclectic culture or counter-culture, and to innovative talents such as Pedro Almodóvar, Fernando Trueba or Iván Zulueta. Breaking with the previous climate of repression, they dealt with subjects that previously couldn't even be mentioned: sex, drugs, homosexuality, and political critique.
Many of these films typify what has come to be known as "la Movida Madrileña." Originating as a pop music movement, its high-spirited messiness—with mottos like "Madrid nunca duerme" ("Madrid never sleeps") or "¡Esta noche todo el mundo a la calle!" ("Everybody in the street tonight!")—la Movida influenced and extended across other fields including film, television, photography, fashion, comics and fanzines.
PEPI, LUCI, BOM AND OTHER GIRLS LIKE MOM (Pepi, Luci, Bom Y Otras Chicas del Montón)

DIR/SCR Pedro Almodóvar; PROD Pepón Coromina, Pastora Delgado, Ester Rambal. Spain, 1980, color, 82 min. In Spanish with English subtitles. Not rated.
Fri, Sep 9, 7:00; Sun, Sep 11, 7:15

RAPTURE (Arrebato)

DIR/SCR Iván Zulueta; PROD Nicolás Astiarraga. Spain, 1980, color, 105 min. In Spanish with English subtitles. Not rated.
Fri, Sep 9, 9:00; Tue, Sep 13, 9:15

THE ANCHORITE (El Anacoreta)

DIR/SCR Juan Estelrich; SCR Ragael Azcona. Spain/France, 1976, color, 108 min. In Spanish with English subtitles. Not rated.
Sat, Sep 10, 12:30; Mon, Sep 12, 4:45

BEGIN THE BEGUINE (Volver a Empezar)

DIR/SCR/PROD José Luis Garci; SCR Ángel Llorente. Spain, 1982, color, 87 min. In English and Spanish with English subtitles. Rated PG.
Sat, Sep 10, 2:45; Wed, Sept 14, 5:00

DARK HABITS 8Entre Tinieblas)

DIR/SCR Pedro Almodóvar; PROD Luis Calvo. Spain, 1983, color, 114 min. In Spanish with English subtitles. Not rated.
Sat, Sep 10, 7:15; Wed, Sep 14, 9:15

LABYRINTH OF PASSION (Laberinto de Pasiones)

DIR/SCR/PROD Pedro Almodóvar; SCR Terry Lennox. Spain, 1982, color, 100 min. In Spanish with English subtitles. Not rated.
Sat, Sep 10, 9:45; Sun, Sep 11, 2:45

OPERA PRIMA

DIR/SCR Fernando Trueba; SCR Óscar Ladoire; PROD Fernando Colomo, José Esteban Lasala. Spain/France, 1980, color, 94 min. In Spanish with English subtitles. Not rated. Preceded by:

THE LION IN LOVE (El León Enamorado)

DIR/SCR/PROD Fernando Trueba; SCR based on Aesop's fable "The Lion in Love" and a letter by Stanley Burda; PROD Antonio Resines. Spain, 1979, b&w, 6 min. In Spanish with English subtitles. Not rated.
Sun, Sep 11, 12:30; Tue, Sep 13, 7:00

CONFESSIONS OF A CONGRESSMAN (El Diputado)

DIR/SCR Eloy de la Iglesia; SCR Gonzalo Goicoechea; PROD J.A. Pérez Giner. Spain, 1978, color, 110 min. In Spanish with English subtitles. Not rated.
Sun, Sep 11, 9:10; Mon, Sep 12, 9:00

THE SOUTH (El Sur)

DIR/SCR Víctor Erice; SCR based on the novel by Adelaida García Morales; PROD Elías Querejeta. Spain/France, 1983, color, 95 min. In Spanish with English subtitles. Not rated.
Mon, Sep 12, 7:00; Thu, Sep 15, 9:30

CRIA CUERVOS

DIR/SCR Carlos Saura; PROD Elías Querejeta. Spain, 1976, color, 110 min. In Spanish with English subtitles. Not rated.
Tue, Sep 13, 4:45; Wed, Sep 14, 7:00; Thu, Sep 15, 4:45

WHAT HAVE I DONE TO DESERVE THIS? (¿Qué he hecho yo para merecer esto!)

DIR/SCR Pedro Almodóvar; PROD Hervé Hachuel. Spain, 1984, color, 101 min. In English and Spanish with English subtitles. Not rated.
Sun, Sep 18, 12:45; Mon, Sep 19, 7:00

WOMEN ON THE VERGE OF A NERVOUS BREAKDOWN (Mujeres al Borde de un Ataque de Nervios)

DIR/SCR/PROD Pedro Almodóvar. Spain, 1988, color, 90 min. In Spanish with English subtitles. Rated R.
Sat, Sep 17, 1:45; Sun, Sep 18, 3:00; Thurs, Sep 22, 10:00

THE HOLY INNOCENTS (Los Santos Inocentes)

DIR/SCR Mario Camus; SCR Antonio Larreta, Manuel Matji, based on the novel by Miguel Delibes; PROD Julián Mateos. Spain, 1984, color and b&w, 107 min. In Spanish with English subtitles. Rated PG.
Sun, Sep 18, 7:20; Tue, Sep 20, 7:00

GOING DOWN IN MOROCCO (Bajarse al Moro)

DIR/SCR Fernando Colomo; SCR Joaquín Oristrell, José Luis Alonso de Santos, after his play; PROD José Luis García Sánchez. Spain, 1989, color, 83 min. In Spanish with English subtitles. Not rated.
Sat, Sep 17, 12:00; Sun, Sep 18, 9:30; Wed, Sep 21, 9:45

LAW OF DESIRE (La Ley del Deseo)

DIR/SCR Pedro Almodóvar. Spain, 1987, color, 102 min. In Spanish with English subtitles. Rated NC-17.
Mon, Sep 19, 9:10; Tue, Sep 20, 9:00
Film
Washington, D.C.
Sep 9, 2011 – Sep 22, 2011
Venue
AFI Silver Theatre and Cultural Center, 8633 Colesville Rd, Silver Spring, MD
View on Google Maps
More information