Elena del Rivero: '[Swi:t] Home: A CHANT (2001-2006)'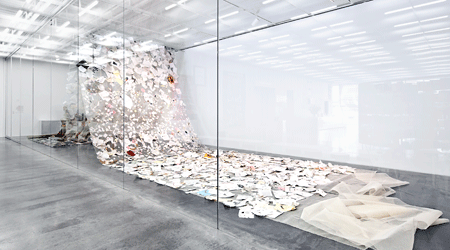 An installation to commemorate the 10th anniversary of September 11th by contemporary Spanish artist Elena del Rivero.
To commemorate the 10th anniversary of the fall of the World Trade Center on September 11th, 2001, the New Museum exhibits Del Rivero's piece, [Swi:t] Home: A CHANT (2001-2006), in its lobby gallery.
The work was previously installed at the Corcoran Gallery of Art in Washington, D.C. in 2006. Del Rivero's New York City studio and living space was across the street from the World Trade Center when it was attacked in 2001. In the aftermath of the event, Del Rivero's studio was filled with ashes, dust, and debris from the surrounding buildings. She eventually began to clean, catalogue, and piece together bits of letters, legal documents and scrap of paper left in her apartment. The scraps were eventually hand sewn onto rolls of fabric over the course of many months.
The New Museum intends to install the piece in long scroll-like, horizontal bands. This will allow viewers to become fully immersed in the intricacies of Del Rivero's work, to see all 3,316 pieces of found burnt papers which she has carefully stitched to rolls of cotton mesh amounting to more than 500 feet of material.
New Museum Admission: General Admission: $12 – Seniors: $10 – Students: $8 – 18 and under: Free – Members: Free. Visitors receive free admission to the Museum on Sunday, September 11, 2011.
The presentation of Elena del Rivero's work is made possible through a partnership with the Embassy of Spain and the Consulate of Spain in New York. Additional support is provided by Acción Cultural Española (AC/E), and the Toby Devan Lewis Emerging Artists Exhibitions Fund.
Visual arts
New York
Sep 7, 2011 – Oct 9, 2011
Venue
More information