Window to Spain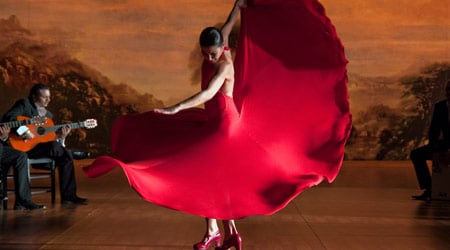 Come celebrate the launch of our monthly open-air film series. Enjoy a selection of the best Spanish contemporary art and immerse yourself in stories of life, music, dancing, food, and of course, film!
The series starts with a 2-day kick off on Friday, June 24th with live Flamenco music and dancing in the public plaza followed by the screening of Flamenco Flamenco by Carlos Saura.
On June 25th, we will present an eclectic selection of Spanish shorts, animation and experimental pieces, music videos, videoart and a special program from Region 0. The Bar Basque will host a short afternoon reception.
Monthly screening events will continue through December 2011 and include award-winning films and documentaries. Admission is free.
Friday, June 24th:
7.00 pm - Live Flamenco Dancing in the Plaza
8.15 pm - Opening Screening: Flamenco, Flamenco, by Carlos Saura
Saturday, June 25th:
3.00 pm - Short Films Program
4.30 pm - Music Videos Program
5.00 pm - Animation Program
6.10 pm - Video Art Program
The Big Screen Project is a creative initiative to promote art, culture, and entertainment in its public venue in New York City. The public plaza is adjacent to the Hotel Eventi, Bar Basque and FoodParc restaurants at 839 Avenue of the Americas (29th St.). Window to Spain is co-produced by Telegraph21 and Pragda.
Film
New York
Jun 24, 2011 – Jun 25, 2011
07:00 pm
Venue
Big Screen Project, Public Plaza, 839 Avenue of the Americas, New York, NY 10001
View on Google Maps
More information