'BRAVOS.' Groundbreaking Spanish Design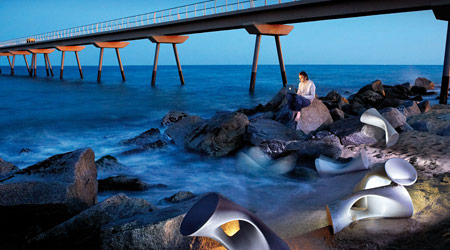 The most talented and successful creations of young Spanish designers of today, now in Los Angeles.
The Spanish Agency for International Cooperation (AECID) in collaboration with The Spain-USA Foundation and the Embassy of Spain are pleased to present the exhibition BRAVOS: Groundbreaking Spanish design.
BRAVOS is an innovative design exhibition that portrays the innovation and diversity of the new Spanish design scene. It includes the work of twenty-one of the most talented and successful young Spanish designers of today, and represents the best industrial design creations of the Spanish Design Boom.
Dwell on Design in Los Angeles will host BRAVOS. The exhibit will then travel throughout the U.S. during 2011 and 2012, Chicago, San Juan Puerto Rico and Houston… before travelling through Europe, Asia and Latin America.
After an important design history with figures such as Gaudí, Dalí, and 20th century masters as important as Ricard, Milá, Tusquets, Mariscal, the 21st Century has unravelled a new generation of Spanish designers that stands out just like Scandinavian, Italian and Dutch Design did in previous decades.
Design
Los Angeles
Jun 24, 2011 – Jun 26, 2011
Venue
Los Angeles Convention Center, 1201 South Figueroa Street, Los Angeles, CA 90015
View on Google Maps