Exhibition: 'Duende' by Jarrod Beck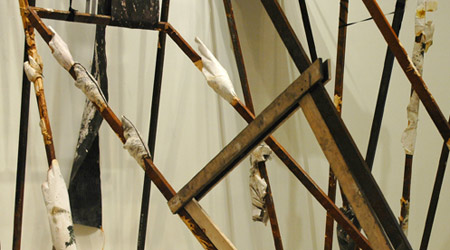 Duende is a word with no direct translation: it takes a few words, the mention of a poet, and allusions to the diabolical to make the idea known to a non-Spanish speaker.
Jarrod Beck first encountered the word while reading about Federico Garcia Lorca's life. He thought of it then as a kind of vibration, an energy or an emotion we feel as we create. In language it could be the phonic that makes words come together as song. And in architecture? Could a building have duende? In researching the history of the location of Instituto Cervantes, the artist learned of the way the buildings were dismantled, the ground excavated and the structure carefully rebuilt to become a more structurally sound Amster Yard. He imagines this process as an archaeological one, with specialists documenting each brick, separating this one from that one, and cleaning off the mortar that once made the bond between each element.
The installation, Duende, inserts itself into the social spaces of Instituto Cervantes. Beginning in the courtyard, the piece will engage the gardens, terraces and upper-level catwalks with a structure of plaster, wood and steel. In the gallery, a selection of recent drawings and prints will be staged in a series of spaces that are built to echo the rooms in Amster Yard when it was a residence.
Visual arts
New York
May 19, 2011 – May 28, 2011
Venue
Phone
212-308-7720
More information