'Out of Darkness comes Light'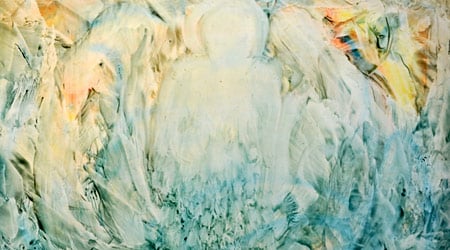 Exhibit on the work of internationally acclaimed Spanish Painter Juan Antonio Guirado (1932-2010) consisting of a collection of work from 1990-2010, reflecting on man's quest for inner peace and search for one God whilst he destroys his own world through greed and stupidity.
The Mayan calendar ends on December 21st 2012, thus bringing speculation and fear as to the future of mankind. Will the world be destroyed by the polar collapse and the climate change this will bring? Greed has so far been the destruction of man and this planet. Hope comes in the form of spiritual clarity and awakening that will heal and save human existence. Guirado's apocalyptic work is visionary in its depiction of the worst and best of mankind and the hope that will come from darkness.
When we look into Guirado's paintings we find the magic that will transport us to a wonderful spiritual world and will make us reflect on our cosmic existence. Guirado's work opens the doors to the Universe, endless in its content and reflecting uncountable changes in parallel universes. Each single fraction of the painting itself is a reflection of the human being trying to understand the mystery of life to reach a calm spirit. Guirado is a painter influenced by eastern philosophy whose work tries to reflect the anger, hunger and desperation in mankind... forecasting disasters in the future. His visionary work seems to align with the prophecies of 2012. Guirado is mainly concerned with the end of a cycle in the history of civilization. Like most essentialists his painting is subjected to a radical purification and he succeeds in getting across the frontier between realism and visionary realism. His technique is superbly sensual for his oils have the fluidity of watercolours in their silky, tactile quality and yet the contours of his visions have the definite, highly contrasted accuracy of the early masters of the Chiaroscuro.
Of his work, one writer said: "His dream landscapes, at times extremely vivid, take us into a journey in search of our soul or the significance of things. Man appears as a tree, or a shadow of himself, or even fragmented. It is a type of painting, which unfolds and through mirrors of metaphysical optics guides us by its strength through the essence of man. After seeing the work of Guirado, one can only meditate and decide that one is faced with a truly exceptional painter." Much of Guirado's work revolves around a tunnel of white light, of immaculate purity and infinite length, with files of people heading toward the light and that final mystery. It is the Tantra which inspires Guirado to be honest with himself whilst relating to the past and present to forecast the future. It is with this reason his work contains the mysteries and doubts that all human beings carry inside themselves. It is only when gazing at his paintings do we develop, without noticing, the sense of our own existence. In sum, he is the fusion of both the Renaissance and surrealist world.
Visual arts
Los Angeles
May 3, 2011
06:00 pm – 09:00 pm
Venue