The Joffrey Ballet: 'Don Quixote'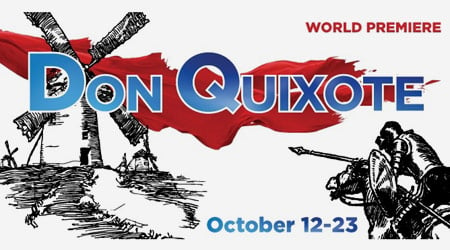 Performed by Chicago Sinfonietta, Possokhov's choreography pulls out all the stops: bullfights, gypsies, windmills and an unlikely hero in a marriage of Bolshoi ballet and earthly Spanish dance.
The Cervantes classic in the hands of a Russian choreographer. This is a passionate ballet filled with heat and texture, flash and color, firelight and fantasy.
The alluring, classical score takes on added drama as the romance and humor of the story unfolds. Possokhov's choreography explodes with new ways to delight, entrance and make your heart melt. Performed with a full orchestra.
Don't miss the related event on October 6th: 'Artists Talks': Yuri Possokhov in Conversation with Glen Carman.
Organized by the Auditorium Theatre of Roosevelt University. Supported by Instituto Cervantes Chicago.
Performing arts
Chicago
October 12, 2011 – October 23, 2011
Venue
Auditorium Theatre of Roosevelt University, 50 East Congress Parkway, Chicago, IL 60605
view larger map
Phone
800-982-2787 ‎
More information